Little Big Paw Våtfôr Turkey & Vegetables Small Breed 85g
kr19.00 Inkl. mva
Little Big Paw Våtfôr Turkey & Vegetables Small Breed 85g er et komplett, høykvalitets våtfôr fra Little Big Paw! Denne serien er spesielt designet for små hunder og har et høyere innhold av kjøtt, proteiner og kalorier enn det ordinære våtfôret fra Little Big Paw. Alle ingredienser er 100 % naturlige. Fôret er kornfritt og hypo-allergenisk. Little Big Paw har som vanlig laget en herlig blanding av kjøtt, grønnsaker, urter og sunne oljer. Bør prøves!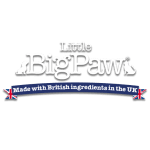 Beskrivelse
Little Big Paw om fôret:
Packed with Proteins: Made with tender fresh duck meat – highly nutritious, easily digestible and low in fat.
Natural Carbohydrates: Potatoes, green peas and carrots for optimum energy and healthy digestion.
Vital Vitamins & Minerals: Including A, D, E & B Complex for a healthy immune system, strong teeth and bones.
Omega Oils & Fats: Essential fatty acids for great skin, joint care and a superb shiny coat.
Healthy Herbs: Naturally nutritious basil and kelp to promote overall wellbeing and health.
…and absolutely no artificial preservatives, no colourants, no flavourings, no grain, no wheat, no soya and no dairy. Just great food packed with natural goodness!
Composition: Turkey 60%, Dried Vegetables (5.81% equivalent to 27% Potatoes, Peas and Carrots), Minerals, Sunflower Oil, Salmon Oil, Dried Tomato, Dried Kelp, Dried Basil.
Analytical Constituents: Crude Protein 9.5%, Crude Fat 9%, Crude Fibre 0.5%, Crude Ash 4%, Moisture 75%.
Additives: Nutritional Additives/kg: Vitamin A 3000IU, Vitamin D3 350IU, Vitamin E 40mg, Zinc (Zinc Sulphate, Monohydrate) 25mg, Iron (Iron Sulphate, Monohydrate) 20mg, Manganese (Manganous Sulphate, Monohydrate) 3.75mg.
117kcal per 85g
0.48g Phosphorus per 100g
0.58g Calcium per 100g
Brand
Little Big Paw