Simple Solution Washable Training Pad Tisseunderlag Valp (2 stk)
kr599.00 Inkl. mva
Simple Solution Travel & Training Pads er vaskbare tisseunderlag som kan brukes både til valper og katter. Disse vaskbare underlagene er et slitesterkt, bærekraftig og gjenbrukbart alternativ til engangsprodukter. Superabsorberende og allsidige, du kan bruke de til alt fra møbelbeskyttelse til beskyttelse av tepper. Et populært produkt blant valpeeiere.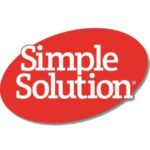 Beskrivelse
Simple Solution om Washable Travel & Training Pad Tisseunderlag Valp:
Maybe you need a more robust training pad, or would like to stop throwing away so much. Simple Solution Large Washable Training and Travel Dog Pads are a durable and reusable alternative to disposable pads. The moisture-wicking top sheet means little paws won't track the mess onto your clean floors. Super absorbent and versatile, you can use them for everything from furniture protection to place mats.
REUSABLE – Simple Solution Large Washable Training and Travel Dog Pads are a super absorbent solution for pet parents who want a reusable alternative to disposable training pads. What may surprise you is just how versatile these tough pads are.
NO MESS – These 30 x 32 inch pads have a moisture-wicking top sheet that eliminates tracking and controls odor. Your puppy won't track their mess onto your floors and furniture
MAXIMUM CAPACITY – These house training and travel pads can hold up to 10 times more liquid than our standard disposable economy pads.
VERSATILE – Reusable, and with so many uses: Protect furniture and bedding, line kennels and crates, use them as post-surgery pads, place them under your messy eaters' food bowls–even your kitties can use them as litter box mats!
TWO IS BETTER – Each package includes two (2) large washable training and travel pads.
Brand
Simple Solution
Simple Solution